Ryo Takara
Ryo is a multidisciplinary graphic designer based in Melbourne. Originally from Japan, he has a passion for graphic design and especially typography. In designing the Inkuco logo, he has brought together elements of paper and ink to represent the brand in a simple, minimal way. The font and colour of the logo are unique and are cohesive with our brand. Our wrapping paper design also showcases his work with experimenting with typography. To contact him for design work, visit his website https://www.ryo-tkr.com/ or have a look at his instagram @ryo_tkr_design to see more of his work.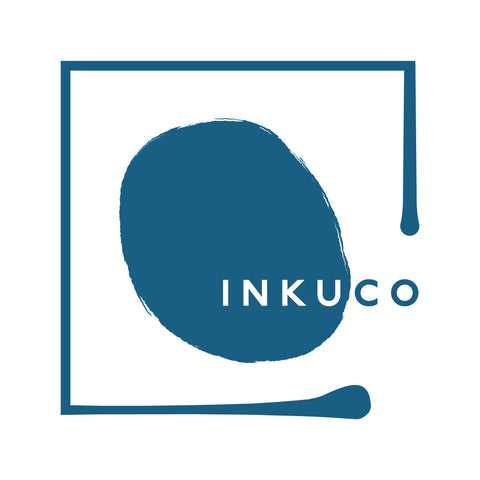 Hungry Workshop
Hungry Workshop is a Melbourne based Letterpress and Design company that is detail focused and connects with individuals and brands to make their visions a reality. They are also very environmentally minded and have a strong sense of community. They utilise several letterpress techniques via their original Heidelberg windmill platen press, including foiling, embossing, and debossing. If you would like more information about Hungry Workshop and to contact them, please click here. 
Junko Azukawa
Junko Azukawa is a Sumi-e Artist from Toyoma, Japan. Since 2005, she has been based in Melbourne, Australia.

Starting with Shodo (traditional Japanese Calligraphy), she began learning all that calligraphy and Japanese ink painting could offer. Learning under Shiro Aoyagi, the founder of the Hokuriku Shodo Academy, she has brought her unique skills to Melbourne. Here she teaches about Japanese calligraphy and painting in a variety of ways at several schools and organisations. Junko's art is also exhibited at many galleries around Australia and Japan, including the NGV.

We have been fortunate enough to have Junko create a unique artwork using rare indigo ink to create an image of energy and confidence, showcasing a range and depth of colours in the indigo ink.

We are so grateful that Junko has shared her Japanese culture with us and Australia and look forward to collaborating more with her in the future.
You can connect to Junko through her instagram, website or new youtube channel (links below)
Southern Impact
Specialising in printing, Southern Impact is a company in Melbourne with impressive machinery and excellent attention to detail. Even though they do mostly large commercial jobs, they have provided a great personal service. They have been open to explaining their techniques and introducing us to their expert team at the printing press through every step of the process. If you have any printing projects, click here to get more information about Southern Impact.
Marvel Bookbinding and Finishing
Marvel is Australia's largest independently family owned Bookbinder and Print Finisher. Starting in 1986, Marvel has always been a market leader and at the forefront of printfinishing technology. Marvel can offer all binding and print finishing techniques that are currently available, including section sewn binding and hard case binding, showcased in Inkuco's notebooks and planners. For more information on their services, please click here. 
Natural Wooden Box Co
Natural Wooden Box Co make wooden boxes in the hills of Byron Bay. They make handcrafted boxes using locally grown, sustainable timbers from a local miill. Also as everything is made by hand, there may be slight variations in each box, but they are made to last and can be reused for many years to come.